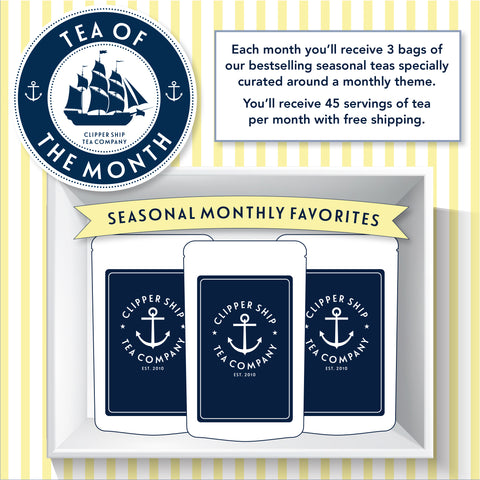 Tea of the Month - Seasonal Box
The perfect gift for the tea lover in your life.
Explore the world of our seasonal bestsellers!

Description
If you'd like to have the perfect seasonal teas in your cabinet every month, without coming to the store or logging on our website, then this is the subscription box for you. 
Each month you'll receive 3 bags of our bestselling seasonal teas carefully hand-selected for the month.  Each month's box will contain 45 servings of loose leaf tea specially curated around a monthly theme.
You'll get the ideal teas for Thanksgiving, the Holidays, the New Year, Valentine's Day, St. Patrick's Day, Spring, Summer, Autumn, Halloween, and Winter. The teas will be an assortment of black, green, oolong, white, pu'er, and herbal teas.
What's Included Each Month Subscribed
3 bags of tea in 50 gram (1.8 oz) size.
Approximately 45 servings of tea per month.
Free shipping.
Free samples of tea.
Card with tea brewing information.
Card with tasting notes for each tea.
Details
Orders submitted by the 1st of the month, will start and ship that month.
Orders placed after the 1st, will start and ship the 1st week of the following month.
Free shipping on your Tea of the Month Boxes.
Choose either 3, 6, or 12 month subscription.
You'll pay a one-time payment at purchase.
No substitutions because this subscription is meant to be a way to explore new teas.
Pricing (one-time payment)
3 months - $89.97 ($29.99/mo)
6 months - $174 ($29/mo - save 3%)
12 months - $336 ($28/mo - save 6.5%)
Free Shipping is included
Tea of the Month cannot be cancelled or transferred once purchased. Your one-time payment commits you to either 3, 6, or 12 months. Can only be purchased online. It's not available in-store.  

---
We Also Recommend